Committee
Because of PIC/S dual nature (an international treaty - the PIC Convention - and an arrangement between Competent Authorities - the PIC Scheme), the Committee, which governs the Organisation, is a joint Committee. It comprises the representatives of PIC Contracting States (called the "Committee of Officials") and the representatives of the Scheme's Participating Authorities. Both are referred together as "The PIC/S Committee".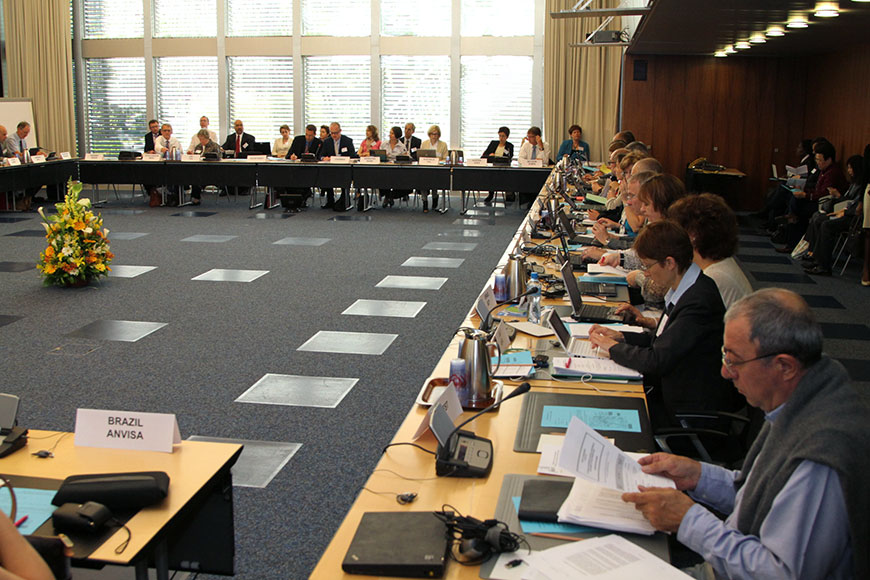 Committee meeting in Geneva (Switzerland), 2011
Each Participating Authority has one vote. In some cases, two Authorities of one and the same country may have jointly one vote (e.g. Germany's Federal Ministry of Health and ZLG have together one vote only). Decisions are taken by consensus.
The PIC/S Committee is steered by the Chairperson (The PIC/S Chairperson) during and in between meetings (see also "Executive Bureau" below).
The mandate of the PIC/S Committee is defined in the PIC Scheme. The PIC/S Committee meets at least twice a year to:
consider measures for achieving the appropriate and effective operation of the Scheme;
make recommendations and proposals for the amendment, updating and improvement of (i) standards of Good Manufacturing Practice currently applied under the Scheme, and (ii) any other GxP standards or good practices applied on a voluntary basis;
promote co-operation between the competent authorities to facilitate the application of the Scheme;
exchange information and experience on means and methods for achieving uniform and effective inspections;
promote quality assurance of inspections and quality systems for Inspectorates;
promote mutual training for Inspectors by means of e.g.:

seminars dealing with the state of the art of GMDP knowledge in all necessary fields, and
joint visits for the harmonisation of inspections

promote the exchange of experience in relation to GMDP for special categories of medicinal products e.g. human blood and tissue, medicinal gases, hospital pharmacy, biotechnologically manufactured medicinal products;
promote the exchange of experience between, and mutual training for, personnel of official control laboratories;
discuss and decide on the participation of competent authorities of other countries;
make proposals for amendments to the Scheme;
contribute to the development of new Guides and Guidance documents applicable to GMDP e.g. for different types of manufacture;
promote global harmonisation of GMDP;
adopt annual budgets and approve financial accounts in line with financial procedures;
elect the Executive Bureau;
negotiate and conclude agreements.
The Rules of Procedure of the PIC/S Committee provide that "The Committee may institute Sub-Committees, drafting groups, working groups or Expert Circles as may be required which shall report to the Committee". Since 2014, the Committee is assisted in its task by the following 7 Sub-Committees: